Preventive Care

Our Practice stresses this medical model, for the overall health of your child.
Preventive care starts with newborn care.
Our Providers educate new Moms on proper care and safety.
We emphasize the recommendation by the AMA and AAP that strongly encourages breastfeeding.
Newborns will receive their first Preventive care visit at two weeks of life.
Provider reviews hospital discharge papers with parent to make sure parent understands any special instructions.
If upon review, Provider finds that the newborn failed their initial ABR (Audio Brain Response) hearing test, it is repeated in our Pediatric office, ON OUR ABR MACHINE.
Parent is given a Newborn booklet designed by our Pediatric office to help with the first year of life. It contains vital information on newborn and infant care and safety. It is available in English and Spanish.
Dr. Brown's office is aware of the need for Preventive care services and as an incentive for you to keep your child's preventive care appointments and being up to date on all immunizations, Dr. Brown raffles a Nintendo Wii system every three months. This helps your child stay on track and proves that exercising can be fun!
We will be posting winners on our website every quarter.
Preventive Care visits are scheduled at appropriate times to ensure your child stays up to date with the recommended immunization schedule. Our Pediatric office uses a reminder call program to remind patients of their upcoming appointment. If a patient misses an appointment, we make sure to call parent to reschedule and remind parent of the importance of staying on track with routine well care
Preventive Care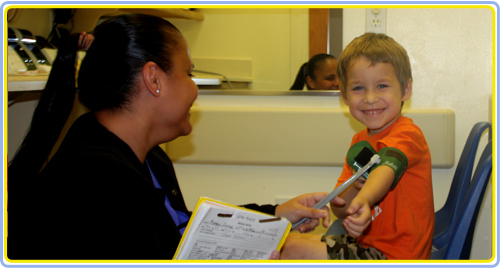 Well Child Pediatric Care and Schedule for Babies, Toddlers and Children

Seeing children and parents at regular intervals is important in maintaining your child's health, evaluating growth and development, discussing safety, nutrition and behavior, and answering questions. If your child has any special needs, we may need to see them more often.
The following is the schedule of routine visits: (Ages Approximate)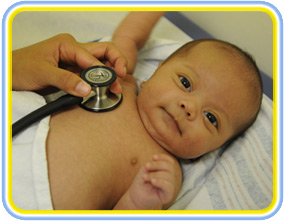 Expectant Parent anytime
5 Days
2 Weeks
1 Month
2 Months
4 Months
6 Months
9 Months
12 Months
15 Months
18 Months
2 Years
Then yearly after age 3
NOTE: Always schedule your next well child appointment at time of current visit.
SPORTS AND CAMP PHYSICALS
Some Camps and sports programs require physicals and/or forms for your child to participate. We ask that you please pre-fill as much information as possible before coming in and be sure not to forget them as we do NOT have these special forms in our Pediatric office. As we tend to book our check-ups far into the future, please call our Pediatric office as early as possible to schedule your child's check-up.
Immunization Schedule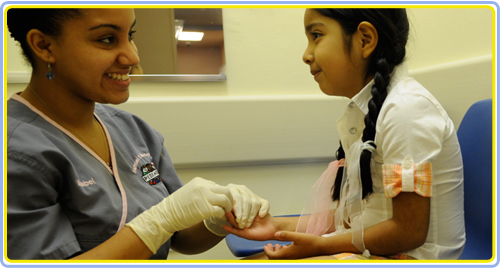 1 Month HEPATITIS B
2 Months HEP B DTAP, POLIO,HIB,ROTATEQ, AND PCV-PREVNAR
4 Months DTAP, POLIO,HIB,ROTATEQ, AND PCV-PREVNAR
6 Months HEP B, DTAP, POLIO,HIB,ROTATEQ, AND PCV-PREVNAR
12 Months MMR, VARICELLA,PREVNAR, AND HEP A
15 Months DTAP AND HIB
18 Months HEPATITIS A
4 Years MMR, VARICELLA, DTAP AND POLIO
HPV IS RECCOMMENDED BUT IS NOT MANDATORY STARTING AT AGE 9
11 TDAP AND MCV 4
16 MCV 4 BOOSTER
FLU INFLUENZA VACCINE IS RECCOMMENDED YEARLY
DESCRIPTION OF ABBREVIATIONS
HEP B= HEPATITIS B VACCINE
HEP A= HEPATITIS A VACCINE
DTaP= DIPHTHERIA - TETANUS - ACELLULAR PERTUSSIS VACCINE
Hib= HAEMOPHILUS INFLUENZA TYPE B VACCINE
ROTATEQ= ROTAVIRUS VACCINE, FLU INFLUENZA VACCINE
PCV PNEUMOCOCCAL CONJUGATE VACCINE
MMR MEASLES - MUMPS - RUBELLA VACCINE
MCV4= MENINGOCOCCAL CONJUGATE VACCINE
HPV= HUMAN PAPILLOMAVIRUS VACCINE
See Our Stats
WOW!!! SEE OUR STATS!!!
We have always strived to be the best pediatric, primary care, medical home for our patients. Our practice emphasizes Preventive Care, early diagnosis and follow-up care. This significantly cuts down on unneeded hospitalization and emergency room usage. This has been our way of practicing medicine since Dr. Brown first opened the practice. Below are charts provided by the state comparing other Pediatric offices to Dr. Brown's Pediatric office.
Dr. Brown's Pediatric office is leading the state.
The green bar represents Dr. Brown's Pediatric office.