Well Child Care and Schedule

Seeing children and parents at regular intervals is important in maintaining your child's health, evaluating growth and development, discussing safety, nutrition and behavior, and answering questions. If your child has any special needs we may need to see them more often.
The following is the schedule of routine visits: (Ages Approximate)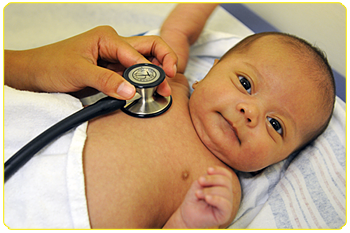 Expectant Parent anytime
5 Days
2 Weeks
1 Month
2 Months
4 Months
6 Months
9 Months
12 Months
15 Months
18 Months
2 Years
Then yearly after age 3
NOTE: Always schedule your next well child appointment at time of current visit.
SPORTS AND CAMP PHYSICALS
Some Camps and sports programs require physicals and/or forms for your child to participate. We ask that you please pre-fill as much information as possible before coming in and be sure not to forget them as we do NOT have these special forms in our Pediatric office. As we tend to book our check-ups far into the future please call our Pediatric office as early as possible to schedule your child's check-up.